4 extra large shrimps
4 slices lotus root
4 slices Kabocha (Japanese squash)
Sea salt
Vegetable/canola oil
1 cup ice water
1 egg
1 1/2 cups cake flour, plus more for dredging
Maccha green tea powder
Freshly squeezed lemon juice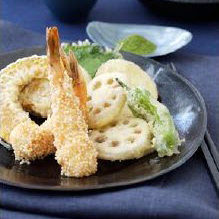 Cut the vegetables in 1/2 inch thick slices. Clean the shrimp, remove the shells but leave the tails on and de-vein. Cut about 1/8 inch of muscle around the belly keep the shrimp from curling up when it is fried.
Season the vegetables and shrimp with salt. Heat oil to 360F in deep fryer or wok.
Prepare the Tempura Batter: Mix the water and the egg. Then mix 1/2 of the egg mixture and 1/2 cup of flour. Continue adding more egg mixture and flour as needed to reach the desired consistency (see demonstration). You want to stop mixing when you see the flour just barely incorporated. Do not over mix the batter. Keep it cold until ready to use.
Dredge the vegetables and shrimp with cake flour. Shake off any excess flour.
Dip the vegetables and shrimps into the tempura batter and then into the hot oil. Cook until crispy. Tempura will turn a slightly light brown color, but not completely golden brown.
Mix together the sea salt and Maccha green tea powder. Serve with a lemon wedge. Squeeze lemon juice on the sea salt and Maccha mixture when you eat.