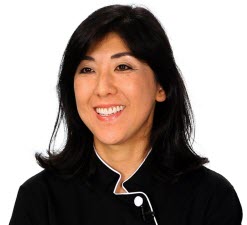 Japanese Cooking Studio was founded by Mamie Nishide in 2000.  Mamie offers private cooking lessons in your home. Cooking parties offer a unique, interactive, engaging experience in your own home for you and either family or friends you invite as guests.
Looking for caterer for your special party?  Japanese Cooking Studio caters memorable Japanese cocktail foods to full course meal for your special occasions.
Read what others have to say about Japanese Cooking Studio in our testimonials page.
Born and raised in Japan, Mamie came to the States to study business at Baruch College in New York City. It did not take long for Mamie to miss the authentic cuisine of her native Japan. Sushi, tempura, tofu and beautiful Japanese desserts became her new mission. After graduation from business school and a brief career on Wall Street, Mamie abandoned corporate life for her culinary passion. Finishing a Culinary Arts degree from the Institute of Culinary Education (Peter Kump), she then continued her training at the test kitchen for Country Living Magazine in NYC and Le Bernardin as well as restaurants such as Nobu and Star Boggs.
Mamie now teaches at the Institute of Culinary Education, the Natural Gourmet Institute and other cooking schools. She was a finalist on "Sweet Genius, Food Network TV" and her work was featured in Brides magazine. In addition, she runs private cooking parties and gives at-home culinary lessons, and also caters to your special occasions. Mamie was also a sous chef at Annemarie's Dining Room (Annemarie Huste is a former private chef to Jackie Kennedy) in NYC and a catering chef to Star Boggs in Westhampton Beach. Mamie works as a free-lance food stylist and her work can be found in magazines, advertisements and cook books. Her sweets was featured in Brides Magazine and talked about by Ladies' Home Journal, Gluten-Free Living Magazine, LIVING WITHOUT magazine and BizBash. Her Ramen recipe was featured in Fine Cooking magazine, Feb/March 2018 and Japanese Fried Chicken, April/May 2020.
Mamie also have master degree in Environmental Technology and Sustainability at New York Institute of Technology and now she is using her skill and knowledge to protect land and water through culinary business.