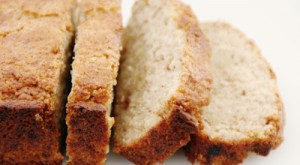 Makes one loaf
11/2 cup gluten free flour               2 eggs
1 teaspoon baking powder            1/2 cup rice milk & 1 teaspoon lemon juice
1/4 teaspoon baking soda             2 cups ripe banana
1 cup splenda                              1/2 cup canola oil
1/2 cup date sugar                       1 teaspoon vanilla extract
Turn oven on 375F.
Spray a loaf pan with baking spray.
In a large bowl, mix all dry ingredients.
Mix rice milk and lemon juice and set aside for 5 minutes.
In a medium bowl, mix all wet ingredients.
Mix dry and wet ingredients together.
Pour batter into the prepared baking loaf pan and bake for 40 minutes or until done.
Option: Add 1 cup roasted your favorite nuts.